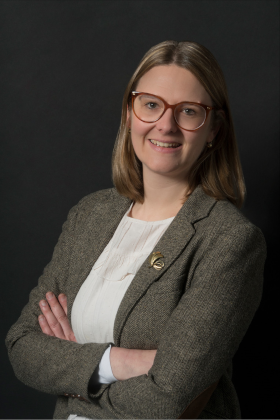 Prof. Dr. Theda Radtke
Head of Health Psychology and Applied Diagnostics
Contact
Building S, Room S.15.05
Consultation hours by appointment only
Phone: +49 (0) 202 439 3349
radtke[at]uni-wuppertal.de
Further Information
Strengthening health through the use of modern technologies (e.g., apps, activity trackers)
Development, implementation, and evaluation of theory-driven preventions and interventions with a focus on e-health and m-health interventions (e.g., disconnection from smartphone use among employees or families, enhancing social competence in children and trainees, increasing physical activity).
Diagnostics of protective and risk factors related to various health behaviors (e.g., media consumption, smartphone usage, physical activity, nutrition).
Compensatory as well as transfer effects in health behavior.
STUDY Smart!
The research project STUDY Smart! is a nationwide intervention study on the effects of smartphone breaks in the academic context. Using a longitudinal design, the study examines the effects of planned smartphone breaks during student learning phases on outcome variables such as individual well-being, concentration, and academic performance. Potential moderating influences are also captured. The research project aims to expand the limited research literature on digital detox and smartphone breaks, providing important implications for healthy and successful studying in the smartphone era.
TWOgether
Within the framework of TWOgether, the physical activity of adolescents is intended to be increased. The focus is to examine whether long-term increases in activity are more successful when engaging in physical activity with a friend. The study utilizes diary surveys and activity sensors to ensure the most accurate assessment of physical activity. The adolescents will be followed for a period of six months. Adolescent friends between the ages of 14 and 18 years, who are not sufficiently active according to the official recommendations of the Federal Office of Public Health, Switzerland, will be surveyed.
Winter Semester
Lecture and seminar: Health Psychology
Project work in Health Psychology
Colloquium in Health Psychology
Seminar on Psychological Diagnostics in Practice
Lecture on Testing & Decision Making
Summer Semester
Lecture on Prevention, Rehabilitation, and Ethical-Legal Foundations
Project work in Health Psychology
Colloquium in Health Psychology
Lecture on Introduction to Psychological Diagnostics
Career
Since October 2020 Professor of Health Psychology and Applied Diagnostics, University of Wuppertal, Germany
2019-2020 Professor of Health, Work, and Organizational Psychology, Witten/Herdecke University, Germany

2018 Research stay at the University of Southern Queensland, Australia, Physically Active Lifestyles Research Group (USQ PALs; Prof. Biddle)
2014-2019 Senior teaching and research associate, University of Zurich, Switzerland, Applied Social and Health Psychology (Prof. Scholz)
2012-2014 Post-doc and teaching fellow, University of Konstanz, Germany, Developmental and Health Psychology (Prof. Scholz)
2007-2011 Research and teaching fellow, University of Zurich, Switzerland, Social and Health Psychology (Prof. Hornung), and project staff member of the Tobacco Monitoring Switzerland on behalf of the Federal Office of Public Health
2001-2006 Diploma studies in Psychology, Ruhr-University Bochum, Germany
Awards
08/2018 Early Career Award from the European Health Psychology Society (EHPS)
06/2018 Early Career Award from the International Association of Applied Psychology (IAAP), Division 8, Health Psychology
12/2009 Tandem Grant for the research project 'Compensatory Health Beliefs in dieting women' in collaboration with Dr. D. Kaklamanou from the University of Sheffield, awarded by the European Health Psychology Society (EHPS)
09/2009 Young Research Award from EHPS for poster presentation at the 23rd EHPS Conference in Pisa, Italy
Selected Publications (Peer-Review)
Radtke, T., Apel, T., Schenkel, K., Keller, J., & von Lindern, E. (2021). Digital detox – a passing trend or a lasting solution in the smartphone era? A systematic review of the literature. Mobile Media & Communication. doi.org/10.1177/20501579211028647
Haug, S., Paz Castro, R., Scholz, U., Kowatsch, T., Schaub, M. P., & Radtke, T. (2020). Efficacy of a mobile phone-delivered just-in-time planning intervention to reduce alcohol use in adolescents: results of a randomized controlled crossover trial. Journal of Medical Internet Research mHealth and uHealth, 8(5), e16937. doi: 10.2196/16937
Radtke, T., Liszewska, N., Horodyska, K., Boberska, M., Schenkel, K., & Luszczynska, A. (2019). Cooking together: The IKEA effect on family vegetable intake. British Journal of Health Psychology, 24, 896-912. doi: 10.1111/bjhp.12385
Radtke, T., Luszczynska, A., Schenkel, K., Biddle, S., & Scholz, U. (2018). A cluster randomized controlled trial comparing the effectiveness of an individual planning intervention with collaborative planning in adolescent friendship dyads to enhance physical activity (TWOgether). BMC Public Health, 18, 911. doi.org/10.1186/s12889-018-5818-6
Radtke, T., Ostergaard, M., Cooke, R., & Scholz, U. (2017). Web-based alcohol intervention: study of systematic attrition of heavy drinkers. Journal of Medical Internet Research, 19(6):e217. doi:10.2196/jmir.6780
Complete list of publications here